Profile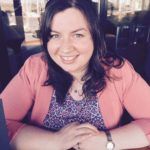 Jennifer Paxton
Very excited to be part of the Enquiry Zone!
Curriculum Vitae
Education

Dumbarton Academy (1994-2000), University of Glasgow (2000-2004), University of Strathclyde (2004-2005), University of Dundee (2006-2009)

Qualifications

I have a BSc (Hons) in Anatomy and then I decided to do an MSc in Bioengineering. This lead me to do a PhD in Tissue Engineering

Work History

I worked in a chemist and a concert hall during my studies and worked as a research scientist ever until 2014. I moved to my current job then where I teach at a University and also run my own research lab.

Current Job

Lecturer in Anatomy and Tissue Engineering Scientist

Employer

I work at the University of Edinburgh where I am a Lecturer in Anatomy. This means that I teach medical and science student all about the different parts of the human body and how it works. I also run my own Tissue Engineering lab which means that I do scientific research into how we can grow replacement body parts with science. It's super fun but is also really exciting that we might be able to help people with our work one day!
Favourite thing to do in my job: I love thinking up new ideas for experiments. It is so exciting to think that something I have thought up or found out may actually go on to help someone in the future. Also the fact that you may be the first person in the world to try something new is pretty cool!

My Work: I'm a tissue engineer, which means that I'm trying to find ways to grow bits of the body in the lab so we can replace diseased or damaged organs in people and make them well again!

Read more

My research is all about finding ways to make cells form tissues in the lab so that we could some day replace bits of the body that don't work anymore. In particular, I am interested in growing tendons and ligaments – these are special tissues that hold our bones and muscles together! If our tendons and ligaments are damaged then we can find simple things like walking, running and even standing difficult and very painful. Unlike bones, that will usually heal after a few weeks, tendons and ligaments don't heal very well at all and can cause lots of problems for people who  have injured them. Maybe you have heard of a footballer "tearing a ligament?" – this can often mean they have to give up football forever! It is my job to find ways to grow them a new ligament, maybe even using their own cells.

My Typical Day: My days are always quite different – but they usually involve teaching the human body to medical students or doing some scientific experiments with my students in the lab

Read more

I get into work around 9am and spend about 30mins answering emails and checking my calendar for the day. Sometimes I have to give a lecture to medical students on a part of the human body. This is usually an hour long and can be up to about 300 students at once! Other times I will need to prepare lectures I'm giving on another day too.

I also spend a lot of time reading and writing. Scientists love doing experiments, but we need to apply to special places to get money to carry out these experiments! This is called applying for a grant, or 'funding' and we need to convince the funding places that our experiments are really exciting and can help people. If we make a really good job of this, we will get some money that will pay for other scientists to come and work with us to do the experiments. Then, we need to write about what we did so we can tell other scientists what we found out! I spend lots of time reading about what other scientists have done and what they have found out because that can often help me decide what we need to do next.

I also have students and staff that work in my laboratory so I spend time meeting with them, discussing their results and planning what to do next. Things don't always work out as we expect in science, and so there is often a lot of problem-solving and head-scratching!

A lot of the rest of my time is spent in meetings with other scientists, other lecturers and students. I am a tutor to students and so they can come to me if they have any problems at Uni (or at home!) and I am a friendly ear that they can talk to.

I'm usually finished about 6pm when I leave to go home, but this is very variable, depending on what is on my to-do list!

What I'd do with the prize money: I'd like to fund scientist visits to schools and pupil visits to labs or build a website to help explain science in a fun way.

Read more

I'd like to improve the links between schools and the "real life scientists". This might involve getting scientists into schools to talk about their jobs or getting small groups to visit labs and see what we do day-to-day. I've also thought about building a website that would help to explain science to school pupils in a fun and inspiring way. I really love drawing diagrams to help explain scientific principles so could combine my love of science and art together.

My Interview

How would you describe yourself in 3 words?

Creative, caring and…curious!

What or who inspired you to follow your career?

I'm not sure actually... my dad was an engineer and he always helped me to try and find things out when I was younger.

What was your favourite subject at school?

Physics and music

What did you want to be after you left school?

I always wanted to be a scientist – I loved finding out about the human body and I also loved making things – so Tissue Engineer turned out to be pretty perfect for me!

Were you ever in trouble at school?

Nope, not that I remember!

If you weren't doing this job, what would you choose instead?

Hmmm.... good question! Maybe a musician? Or I've always fancied opening a coffee shop!

Who is your favourite singer or band?

I love the Foo Fighters, Band of Horses and Death Cab for Cutie

What's your favourite food?

Chocolate!

What is the most fun thing you've done?

I recently became a mummy for the first time and so spending time with my daughter is the most fun thing I do :-)

If you had 3 wishes for yourself what would they be? - be honest!

To be 1. happy, 2. healthy and 3. and be the best mummy I can be

Tell us a joke.

A horse walks into a bar, and the barman says….."why the long face?"
---
---
---